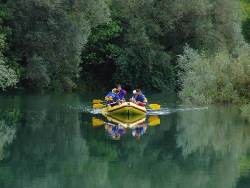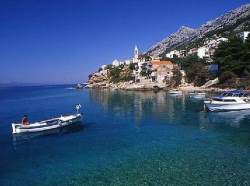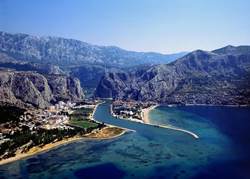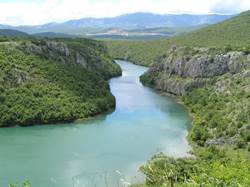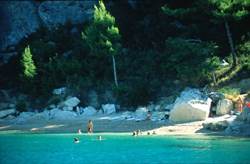 Rafting (level of physical difficulty 3)
3 Hours 15:00-18:00
Final simpler schedule

Maximum number of participants: 24
Local coordinator-1: Nikola Godinovic

CSC Coordinator: François Flückiger

Location:Rafting on Cetina River
Description: For discovering rafting and one of the nicest river in Dalmatia. Participants will receive initial instructions and safety briefings.
Departure location: Rejeka Cetina Rafting Depart Peer
Required skills and health condition
This is open to any participant , male and female, in reasonably good physical condition .

Requires that participants are not afraid of water and can swim.

As with any water sports, there is a chance of briefly going underwater. It's nothing to be afraid of, and your head is underwater for usually no more than a couple of seconds.

Note that the few turbulent parts of the river will be avoided, and the probability is very small that this happens.

Participants will receive initial instructions and safety briefings.

Time will be provided for those willing to jump into the river or swim.
Instructions
Dressing: sport shows, soft trouser (short preferred), sport shirt, rain jacket may prove useful

Shows who can be wet (it is also possible to go barefoot on the raft, but we will have to walk about 200 m to avoid a part a bit more difficult)

Small-size personal items (camera) can be stored on board in a waterproof containers

Personal items (changing clothes) and valuables can be safely stored in the bus

A warm casual change (e.g. pull over, K-way) is recommended for use after the session

Participants are advised to bring a bottle of water.
How it will be organized?
CSC Sports-Day bus will transport participants to departing rafting place on Cetina River

Participants will leave their changing clothes and other stuff not needed for rafting in the bus.

The participants will then start the rafting journey, sailing down the Cetina River

Journey will stop at Radmanove Mlinice, the arrival location on the Cetina River

We will all have a dinner at the arrival place.

The bus will drive the participants back to Medils after dinner.
What will be provided?
Rafting instructors/guides, eight-seated rafts, helmets and life jackets.

Transportation to and from the activity site