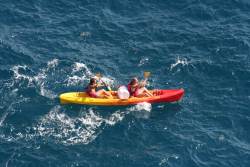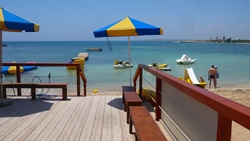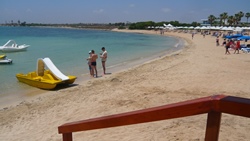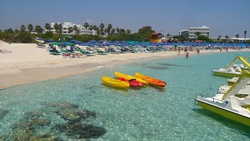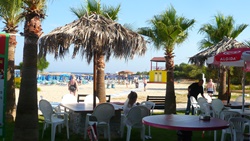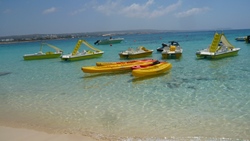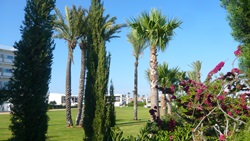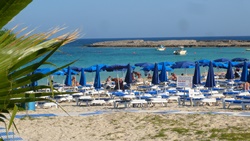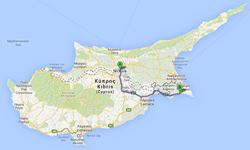 Sea kayaking (level of physical difficulty 3 )
One hour, organized in three successive sessions 15:00-18:00
Overall Schedule

Maximum number of participants: 11 per one-hour session, 33 in total
Local coordinator-1: Fotis Ptochos
CSC Coordinator: François Flückiger, Alberto Pace
Note:
Scuba Diving and Sea Kayaking last one hour each. Subject to place availability, participants may participate in one only or in both activities.In either cases this will leave one or two hours for resting, swimming.
Location: Makronissos Beach, 80 km from Nicosia, 3 km West of Ayia Napa summer resort
Description: One-hour sea kayaking session in the clear waters of the Makronissos Beach.
Departure location: Makronissos beach.
Required skills and health condition
This is open to any participant, male and female, in reasonably good physical condition .

Requires that participants are not afraid of water and of course can swim.

As with any water sports, there is a chance of briefly going underwater. It's nothing to be afraid of, and your head is underwater for usually no more than 3-4 seconds. Participants need to be comfortable with this.

Participants should not suffer from asthma, epilepsy, or be diabetic.

Participants will receive brief initial instructions..
Instructions
Dressing: swimming costume, hat advised

Sunscreen highly recommended

A casual change is recommended for use after the session and the dinner.

There is bar on the beach, but participants are advised to bring a bottle of water.
How the afternoon will be scheduled ?
Three successive sessions will be organized, each with up to 10 participants:

Session 1: 15:00-16:00

,Session 2: 16:00-17:00

Session 3: 17:00-18:00


Before or after their diving session, participants, depending on their initial choice when registering to the Sports Day will

either freely enjoy the beach (note that sunbeds and umbrellas will be arranged for everyone)

or freely enjoy the beach and participate in one of the three one-hour diving sessions
How it will be organized
CSC Sports-Day bus first will transport participants to the Makronissos Beach (about 50 min)

Participants may leave their clothes and other stuff not needed for the beach afternoon in the bus.
Items may also be left on the sunbeds and surveyed by a friend.

The bus will collect the participants and drive them to the dinner place in Ayia Napa

After the dinner, the bus will drive everyone back to the Hilton Hotel
What will be provided
Brief initial instructions instructors, single-seated and two-seated kayaks, pedals

Transportation to and from the activity site