Football Match on the beach
We organize an informal football match Wednesday afternoon (14th of September) at 18:00.
The exact format, duration, ... will depend on the number of participants. Female payers, total beginners, professional players are all welcome. This is to have fun.
If you are interested in participating, could you simply put your name on the registration form? This is to help us anticipating on the numerologies.
See first who has registered, with their comments.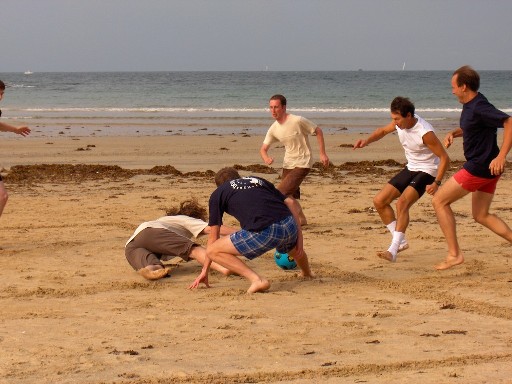 Result of the Match
Dark Team defeats Light Team by 6 to 0
Half-time score: 3-0
Teams
Dark Team
Light Team

Lajos Bojtar
Ivan Bedajanek
Heinz Stockinger
Qiang Lu
Benedikt Hegner
Sergey Pirogov
Raffaele Grosso
Thomas Johansen

+ last minute players

Eric Nzuobontane
Francois Fluckiger
David Cameron
Badri
Omar Moussa
JM Barbet
Dusan Mandat
Anselm Vossen

+ last minute players

Briefing
Supporters:

Jackie Franco-Turner, Fabienne Baud-Lavigne, and many others

Goal
Action
Dark team
Light team
Both teams
Some players