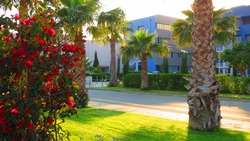 CSC2013 19 – 30 August, Nicosia, Cyprus
Organised by CERN in collaboration with the University of Cyprus, Nicosia
The Data theme presents the state of the art technologies and options for data storing and management in specially demanding environment. It includes security and authentication aspects relevant to data management. The theme is equally divided between lectures and practical exercise sessions.
The Base Technologies theme addresses a selection of the most relevant underlying technologies: software development security, advanced networking as well as computer architecture and performance tuning.
The Physics Computing theme focuses on informatics topics specific to HEP. After setting-the-scene lectures, it addresses Software Engineering Techniques and Data Analysis. The lecturers come from Croatia, Norway, the USA and the UK to teach theory and organize practical work.
School Director
François Flückiger, CERN, Geneva, Switzerland
Registration is for the entire program. It is not possible to register for one theme only

.
After-school News
68
1 Sep


New

Examination Results
Best Marks

67
1 Sep


New

Examination Results

Special Distinctions

In addition to the 5 students who obtained the Best Mark of 32, the jury of the CSC examination is pleased to award a special distinction to the 6 students below who obtained a mark of 31 and ranked 6th.

2013 Special distinctions: all 6 students with pictures and bio
Individual marks can be provided to students upon request, by email, to the Examination Coordinator, Ivica Puljak (Ivica [dot] Puljak [AT] cern [dot] ch)

66
1
Sep


Photo Gallery

Keep posting to the CSC 2013 Gallery after the end of the school.
In particular, pictures taken the last day, at the closing session and the final party.
65
1
Sep


| | |
| --- | --- |
| | We value YOUR comments |

URGENT: If not yet done, please fill out now the questionnaire and do not forget to click the final submit when you are happy with your appraisal and comments.

We count on you :-)