CSC 2007
20 - 31 August 2007 in Dubrovnik, Croatia
Organised by CERN in collaboration with the University of Split

Registration to CSC2007 is closed

Programme highlight

GRID Technologies
delivers unique theoretical and hands-on education on some of the most advanced GRID topics

Software Technologies
addresses the most relevant modern techniques and tools for large scale, distributed software development

Physics Computing
focuses on the particular challenges the HEP community is facing for the LHC computing

Note: registration is for the entire programme. It is not possible to register for one theme only.

Grants from European Union available to participants to cover part or all of the cost of the school
CERN and the local organizers are indebted to Ericsson Nikola Tesla which offered welcome presents to participants.
... as well as to the City of Dubrovnik, for providing free access for CSC students to the city bus transportation system and offering the closing cocktail in the old town, and more generally for helping in providing access to local facilities.
About CSC:


Since the early seventies CERN has organized every year the CERN Schools of Computing (CSC) in one of the CERN Member States.

CERN Schools of Computing, usually held in August/September, are open to postgraduate students and research workers with a few years of experience in elementary particle physics, in computing or in related fields. The participants come from all around the world and are typically of 15 to 25 different nationalities. A fraction of them come from outside the physics community, generally attracted by the advanced topics that are taught. Attendance is limited to 80 students.
CSC2007 Dubrovnik leaflet
(Download PDF version

)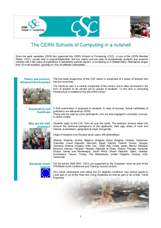 CSC in a nutshell leaflet
(Download PDF version

)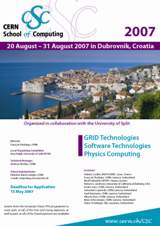 Poster
(Download PDF version

)