CSC 2011
15
to 26 August
2

011
in Copenhagen, DK

O
rganised by
CERN
in collaboration
with the
Niels Bohr Institute
CSC Live - Provides during the school ...
| All News |
Registration to on-site events | Photo Gallery
| Sport and social programs |
Results of examination |
Latest CSC Live

Breaking

News All news ...
74
30
Sep


New

As announced, the Forum for Discussion and Proposals is opening today, 30th of September.

It will stay open for one month and will close until 31st of October 2011.

Do not hesitate to post your ideas, even though they are only sketchy and you are looking for partners. The forum will be moderated and we, lecturers and members of the advisory committee may comment and help ideas converging as proposals are posted.

We remind you that, as the main CSCs, iCSCs are not conferences where you present your achievements, nor training sessions to deliver knowhow, but academic lectures (no exercises however) on a topic you are knowledgeable about, and which is preferably novel or advanced.

To better assess the type of expected lectures, you may visit the iCSC section of the CSC web site and have a look at past years iCSC programmes: 2005, 2006, 2008, 2010, 2011.

For those interested to lecture but

NOT

based at CERN

:

Make proposals! If you are selected to lecture, a

budget

is available to cover your

travel

expenses

from your home institute to CERN and up to 3 nights in the CERN hostel.

If we have an iCSC2012, it will take place the

8

th

and

9

th

of

March

in the IT amphitheatre

.

For

ALL those who will be at CERN

at the time of iCSC2012

:

Book your

Friday

9

th

of

March

evening!

ALL CSC2011 participants

(whether they lecture or not a iCSC2012),

lecturers

and

organizers

are invited to a

diner

and a

party

. This will be another occasion to meet again and have more fun.

72
27
Aug

Examination Results
Best Marks


In addition to its warmest congratulations to all the candidates who successfully passed, the jury of the CSC final examination is pleased to announce the following distinctions

François Fluckiger, CSC Director

1

CERN, Geneva Switzerland

33

2

Physikalisches Institut, Universität Freiburg - Germany

32

University of Malta, Msida - Malta

Uppsala University - Sweden

CERN, Geneva - Switzerland

3

CERN, Geneva - Switzerland

31

STFC, Rutherford Appleton Laboratory, Didcot – United Kingdom

2011 Podium: all 6 students with pictures and bio


Individual marks can be provided to students upon request, by email, to the Examination Coordinator, Ivica Puljak (Ivica [dot] Puljak [AT] cern [dot] ch)

All news ...
Welcome to CSC2011, the 34th edition of the CERN School of Computing.
I would like to warmly thank all those who made this edition of the CSC possible: all our lecturers, track coordinators, members of the advisory committee, the CERN administrative and technical staff, as well as our national co-organizer, the Niels Bohr Institute, and specially Prof. Stig Skelboe, the chair person of the Local Organizing Committee and the team working with him.
Networking and socialization is the other goal of CSCs: See the Sports at CSC and This year Sports Programme
Do you know how to bridge Grids and Clouds using virtualization technology?

Is it possible to simplify LHC physics analysis using virtual machine?

Why I am the only one who can authenticate using my grid certificate despite it contains only public available information?

How can reliable storage services be built from unreliable hardware?

Why are tapes still used in high energy physics data storage?

How can I write code for tomorrow's hardware, today?

Do you want to see your software with attacker's eyes?

Can you hack your own code?

Do you know what do 'code injection' and 'integer overflow' have in common?

What's so special about High Energy Physic's data format?

What are the key statistical methods used in physics data analysis?
All the answers at CSC2011
Programme highlight

Data Technologies
present state of the art technologies and options for data storing and management
Base Technologies
addresses the most relevant underlying technologies for software development security, networking, hardware architecture
Physics Computing
focuses on the particular challenges the HEP community is facing for the LHC computing
Note: registration is for the entire programme. It is not possible to register for one theme only.
About CSC:
Since the early seventies CERN has organized the CERN Schools of Computing (CSC), usually held in August/September. They last two weeks and are open to postgraduate students and research workers with a few years of experience in elementary particle physics, in computing or in related fields. Attendance ranges usually from 60 to 80 students, typically of 15 to 30 different nationalities.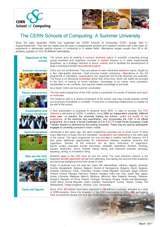 CSC in a Nutshell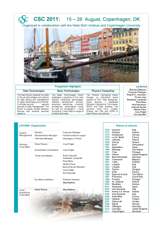 CSC2011 in brief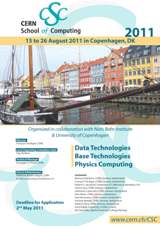 CSC2011 A3 Poster