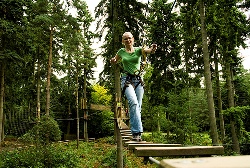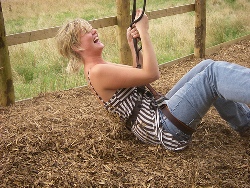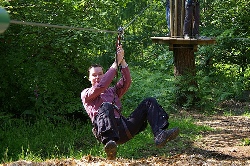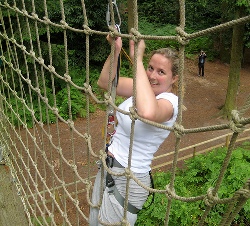 Tree-Top Adventure (level of physical difficulty 4)
2.5 Hours 14:15-16:45
Overall Schedule

Maximum number of participants: 8
Local coordinators: None
CSC Coordinator: Andrzej Nowak
Location: GO-APE Centre, Black Park Country Park, Black Park Road, Wexham SL3 6DS (a few km from Uxbridge)
Description: A panel of acrobatic challenging high ropes activities of varying and increasing difficulty. Participants will receive initial instructions and safety briefings. They may then proceed at their own pace and decide the limit of their course.
Required skills and health condition
This is open to any participant , male and female, reasonably fit and healthy. The activities are physically demanding and require a degree of agility, strength and stamina.

It is preferable that participants are not afraid of space.
Instructions
Dressing: It is preferable to wear loose clothing (loose sport shirt and trouser), sport shoes, rain jacket if uncertain weather. Sandals or slip-off shoes are excluded.

Long hair should be tied up. It is advised to covers waists and remove or tap over piercings for comfort.

Participants are advised to bring a bottle of water and a rain jacket , as rain is forecasted.
How it will be organized
The the CSC Sport-day "bus will drive the participants (after a stop over at Hillingdon complex) to the GO-APE Centre, Black Park Country Park, where professional instructors from the GO-APE Centre will explain the session.

Return by bus to the Brunel campus after stop at Hillington Pools Complex for picking u Cricket players and swimmers
What will be provided?
All necessary equipment, .gear (ropes, ...)

Transportation to and from the activity site